Horizon Celebrates their 25th Anniversary
RAM's Geotechnical Engineering team, Horizon Engineering, celebrated their 25th Anniversary in February. Throughout these 25 years, Horizon has developed a supportive team, working on projects ranging from various sizes and complexities:
emergency response, such as to the Delta Shake and Single landfill fire, for which Horizon won an Award of Merit for engineering excellence from the Association of Consulting Engineers of British Columbia, as well as recent flood and landslide response in the Sumas Prairie;
important infrastructure projects, such as the Broadway subway and the Braid /Lougheed skytrain segment;
important guideline works that set the standard for the practice of geotechnical engineering and studies that increase the understanding of geotechnique, and;
important works that address complex geotechnical conditions, such as those in Gibsons, Minoru and Still Creek.
"We 'walk the walk' at Horizon with respect to practicing engineering with integrity and upholding our profession's primary mandate to protect the safety and the welfare of the public and to protect the environment. We do this by integrating conversations about ethics into our day-to-day practice and by holding quality to be paramount. Our personal and corporate dedication to mentoring, self-study and other means of professional development is ongoing and our comprehensive practices of peer review are systemic. We are a trusted member of project teams for a spectrum of clients," says President, Karen Savage P.Eng., FEC.
At the same time, Horizon celebrated its 5,000th project: providing geotechnical engineering services to a new Command and Operations facility for the North Shore Search and Rescue to be located near Cleveland Dam. To celebrate this milestone, Horizon donated $5,000 to the North Shore Search and Rescue.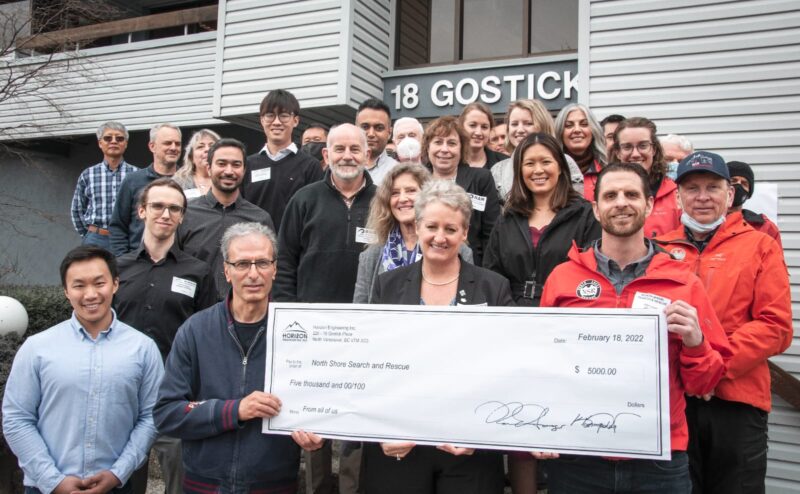 "I believe that Horizon Engineering and North Shore Search and Rescue also share other strengths including a tactile, technical and holistic understanding of physical principles. At Horizon, we strive to consider 'the grain of sand' and 'the drop of water' and their potential impacts on the big picture and project outcomes."
---
Click here to learn more about our geotechnical services.