Congratulations to our new Director of Construction Management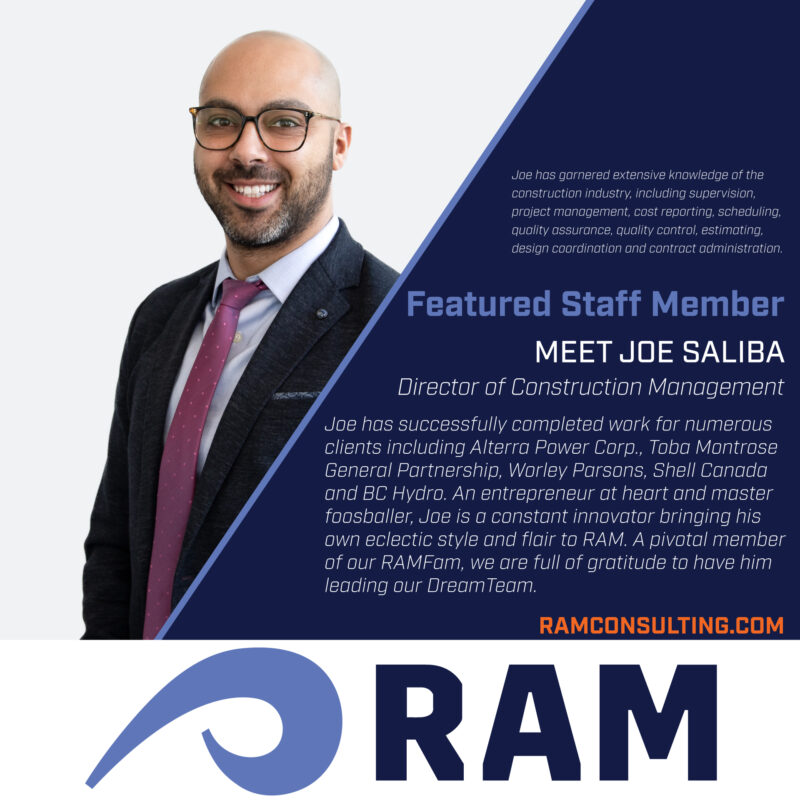 RAM is delighted to announce our new Director of Construction Management, Joe Saliba!
Joe graduated with First Class standings from Lakehead University's Engineering program in 2006, with a degree in Electrical Engineering.
Registered Professional Engineer (P.Eng.) with EGBC. Throughout the years, Joe has garnered extensive knowledge of the construction industry, including supervision, project management, cost reporting, scheduling, quality assurance, quality control, estimating, design coordination and contract administration. Joe has successfully completed work for numerous clients including Alterra Power Corp., Toba Montrose General Partnership, Worley Parsons, Shell Canada and BC Hydro.
An entrepreneur at heart and master foosballer, Joe is a constant innovator bringing his own eclectic style and flair to RAM. A pivotal member of our RAMFam, we are full of gratitude to have him leading our DreamTeam.
RAM is a multi-disciplinary consultancy providing project management, construction management and engineering services. The firm is a leader in many markets with a focus on infrastructure, utility, transportation, energy and marine sectors. RAM delivers professional services to federal, provincial, and local government agencies, as well as to contractors and private clients customers across Canada. For more about RAM, please visit www.ramconsulting.com.